The only thing we know for certain is that this
is something that exists.
This article is about something that doesn't have an official name.
As such, the name of the article is descriptive in nature.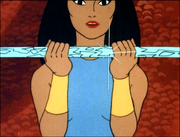 Energy rods are weapons used by
Morag
and
Morag's Raiders
.
Ariel
claimed the rods to be "not bad workmanship". The rods are probably the creation of the
Abyss Wizard
.
Abilities
Edit
A generic beam blast
You could knock someone unconscious by poking them with the rod.
They were also durable enough to withstand a grazing blow from the Sunsword, but not a solid blow.