The only thing we know for certain is that this
is something that exists.
This article is about something that doesn't have an official name.
As such, the name of the article is descriptive in nature.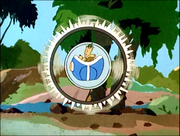 This
War Machine
was
Chom
's entry in the
Challenge of the Wizards
. It was destroyed when
Thundarr
forced it into a river.
Abilities
Edit
It could travel at high speeds over land.
It had armor that made it resistant to magic, but not the Sunsword.
It was apparently designed to run over enemies.